Press Releases
Avon Lake Bicentennial Scavenger Hunt - Destination Party
04/08/2019 – Avon Lake, Ohio – The Avon Lake Bicentennial Celebration's next event is a Citywide scavenger hunt ending with a party. This event focuses on Avon Lake's living history. For people who have lived most of their lives in Avon Lake, there will be a lot of "remember when" moments: and for those who are newer to the area, they will learn the stories of the City. No matter what level of collective knowledge of a team has, everyone will win entrance to the party at the end of the nine locations.
"At first we were thinking that we would have a historic house tour", shares Scavenger Hunt Committee Chair Tomie Patton, "but then we thought the Scavenger Hunt would include more people and it would be looking at Avon Lake's history in a very fun way. (We also thought more men would enjoy this than a House Tour.) Avon Lake does not have a lot of old renovated, interesting homes like Lakewood, Rocky River or Tremont; but we do have our own unique history. House Tours are a different type of "fun". Scavenger Hunt participants will really have "ah ha" moments, laugh, and have a good time at the final destination – the party."
Event Details:
• Sunday, May 5th - 3:00 PM
• Starting at Beach Park Station Shopping Center, 33479 Lake Road
• Come early and visit the Trolley Museum, opening at 2:00 PM
• Receive your first clue when you check-in
• Teams can be as big as the number of seat belts you have in your vehicle.
• $50 Ticket includes - clues for the "hunt", two drink tickets, heavy appetizers, live music, and surprises at each of the nine locations.
The Avon Lake Bicentennial has two more events before its conclusion at the Fourth of July Jubilee. June 9th will be the Hike Into History, a pioneer skills event in Kopf Reservation where there will be demonstrations of what life was like when Avon Lake was founded. On June 29th, the Ohio Village Muffins will be suiting up to play against Avon Lake in a baseball game 1860's style. For more details on these events, go to www.AvonLake200.org.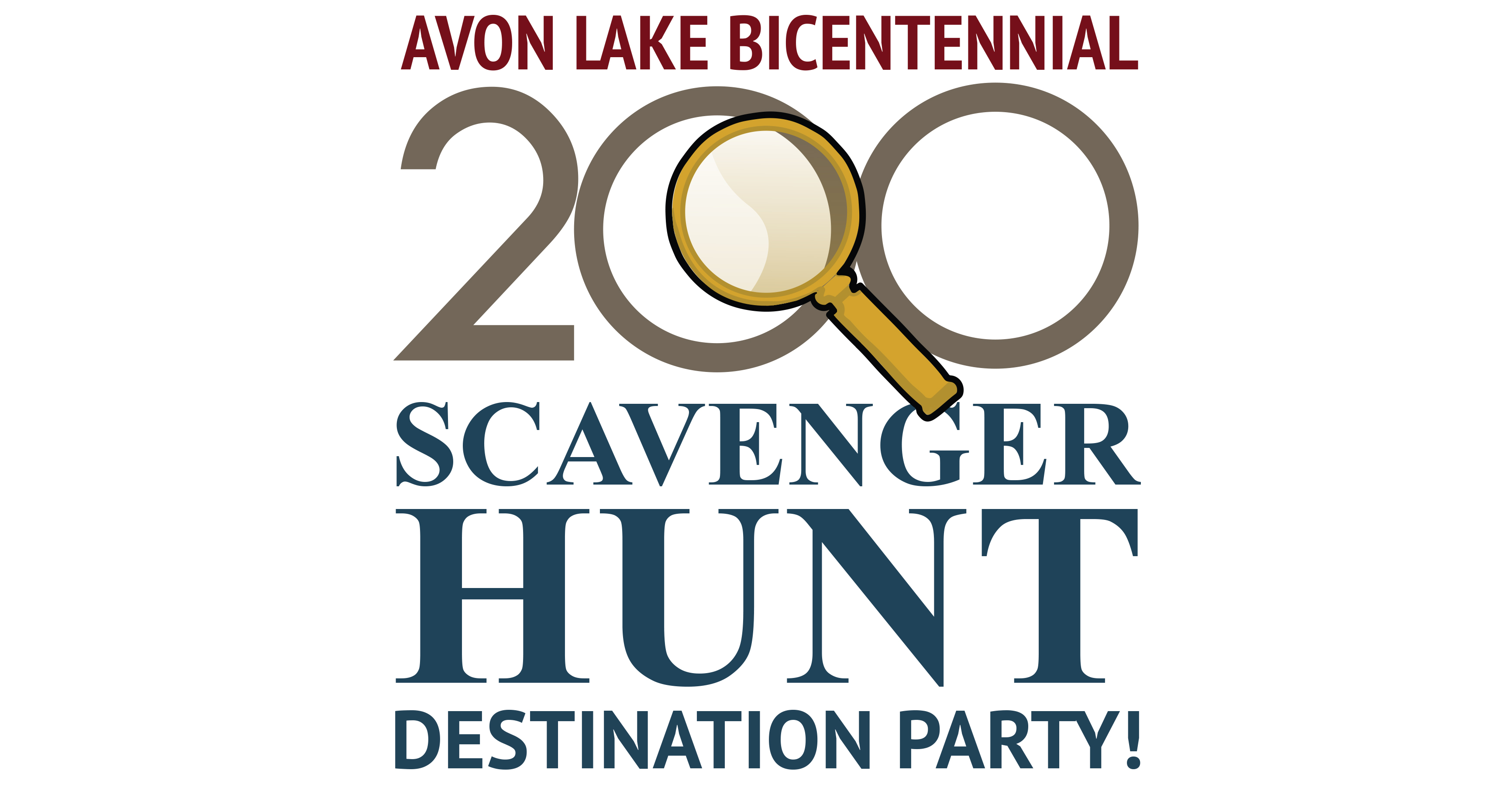 Scavenger Hunt Logo
Download
(Size: 971.03 KB)